From humble beginnings, to industry leader.
If we were located in Silicon Valley, we probably would have started out of a garage. But we're from Michigan and in 1991 Wayne DeWitt started this business out of a barn. From day one the focus of Bio-Chem Laboratory has been on "preserving, protecting and enhancing our environment through applied research and by providing an analytical environment exceeding the quality assurance requirements of our clients". And doing it all while providing unbelievable personalized customer service. We are proud to say that all these years later those core values still exist. The biggest difference – we're not working out of a barn any longer.
Quality
Today, our state-of-the-art equipment allows us to continue offering the highest quality and control. All samples are subjected to Bio-Chem's rigorous QA/QC program to ensure our quality control standards are always achieved (a copy of Bio-Chem's QA/QC manual is available upon request).
For environmental analysis, Bio-Chem strictly follows all standard EPA methods and undergoes bi-annual proficiency testing through Environmental Resource Associates (ERA) for soil and water analysis.
As for beer analysis, we are a member of the American Society of Brewing Chemists (ASBC) and participate in the ASBC check sample service, and analyze samples in accordance with ASBC, AOAC, and TTB published methods to establish quality and consistency.
Customer Service
Our customer service is unmatched. We want you to know there are people behind the science. People willing to make sure you receive personalized customer service. Need to talk to a technician? Have a question for our lab director, or CEO? Give us a call, or shoot us an email, everyone is available to you. Need a local pick up or delivery – at NO charge? Done! We also offer customized electronic reporting. We don't even charge for our sample containers. Who else does that?
Fast Turnaround
Bio-Chem understands the importance of processing your samples efficiently. That's why we analyze your samples when it's convenient for you, not us. Your samples are analyzed as soon as we receive them; we don't hold them until we reach a certain quantity for analysis. We don't require contracts or minimums. We can also handle high capacity due to the sheer number of machines we have on-site, most of which are automated. Typical turnaround time is 5-7 business days, however rush service is available.
Pricing
Our pricing is extemely competitive and is based on a per-sample basis – no minimums or contracts are required.
So, from value to quality analysis and consultation to personalized customer service – find out for yourself all the benefits of working with Bio-Chem Laboratory. Give us a call today to find out what makes us an industry leading laboratory company.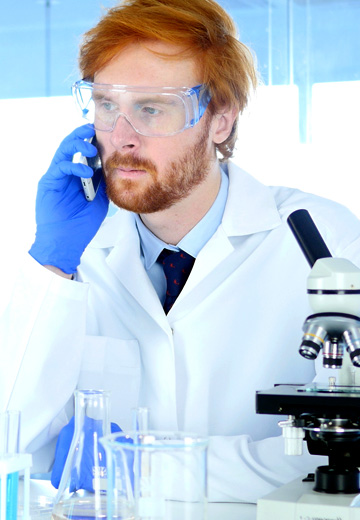 Services for environmental analysis. Including soil, water and air testing.
Click the heading for more details.
Experts in the field with a full array of laboratory services for the brewing industry.
Click the heading for more details.
Click Heading for more details.
Click Heading for more details.