Bio-Chem. Rising above all others.
Over the years, Bio-Chem Laboratory has made significant investments in equipment and training to become experts in the field of beer analysis.
Using our no-hassle, "we do all the work" analysis procedures, along with our second-to-none customer service, you can see why Bio-Chem rises above all others and is your best choice for quality beer analysis.
Of course, we provide all the routine "normal" tests you might be able to find at other labs, but if you're looking for analytical method development and validation, that's where we excel. Our advance knowledge and technologies help analyze what you've given to us. We can achieve both qualitative as well as quantitative results. Our knowledge and experience play a major role in the process to achieve the highest quality and most reliable analytical data out there – all with the intention of providing you with the best possible information to help you make the best product you can.
When we say we provide no-hassle beer analysis, we mean it! We understand, and can help you abide by, TTB labeling requirements. We even provide a signed certificate of analysis. And, we're a long standing member of the ASBC, an organization created to bring technical uniformity to the brewing industry using chemistry, microbiology and analytical control methods. Hey, we're as passionate about the process as you are. To us, this is not just a science, it's an art.
To learn about more of how we can help you, call us. Or better yet, feel free to email our Laboratory Director – Rob Stevens.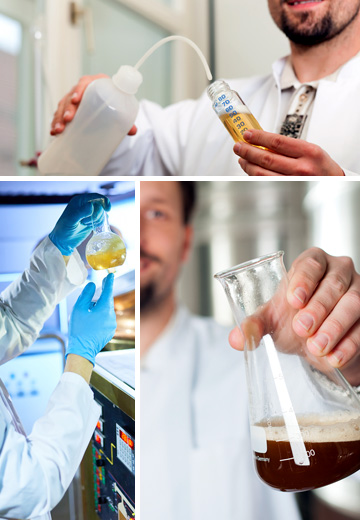 Services for environmental analysis. Including soil, water and air testing.
Click the heading for more details.
Experts in the field with a full array of laboratory services for the brewing industry.
Click the heading for more details.
Click Heading for more details.
Click Heading for more details.