That's an easy one. Our people make the difference.
When searching for laboratory services you should get more that just reliable results. We believe in focusing on you, our customer, and not just with our quality analysis but also in our accountability. By that we mean the commitment we put into every job. We believe in personalized customer service. If you have a question, you'll get an answer – fast. We want you to know there are people behind the science. People you can trust and rely upon.
Below are just a few of our favorite attributes and things that differentiate us from other labs. Contact us today and we can talk about all the benefits of working Bio-Chem Laboratories.
Family-run business for over 25 years
Highly trained and qualified chemists
State-of-the-art technology and equipment
Experts in environmental analysis (soil, air and water) and beer analysis services
Personalized customer service
Strict environmental analysis quality control –– follow all standard EPA methods and undergo bi-annual proficiency testing through Environmental Resource Associates (ERA) for soil and water analysis
Strict beer analysis quality control –– as member of the American Society of Brewing Chemists (ASBC) and participate in the ASBC check sample service, and analyze samples in accordance with ASBC, AOAC, and TTB published methods to establish quality and consistency
Analysis includes analytical method development and validation
Quick turnaround
Competitive Pricing
NO contracts or minimums
FREE local pick-up and delivery
FREE sample containers
Rush services available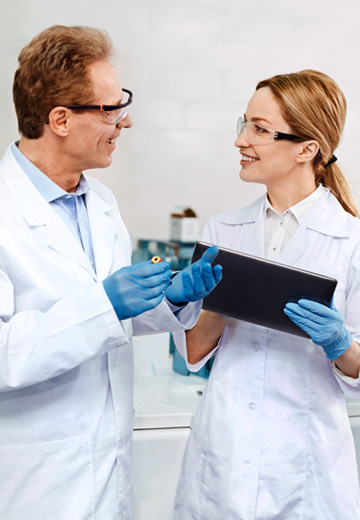 Services for environmental analysis. Including soil, water and air testing.
Click the heading for more details.
Experts in the field with a full array of laboratory services for the brewing industry.
Click the heading for more details.
Click Heading for more details.
Click Heading for more details.